I had read "Paradox-The Angels are Here" (

see review here

http://bit.ly/wl0Otx ) and Paradox - Progeny of Innocence (

see review here

http://bit.ly/StZWYV ) available at Amazon and Smashwords and looked forward to reading more of the story to better understand what was propelling the story and what place the children truly held in ending the conflict between the fallen angels and the humans. So below see my review.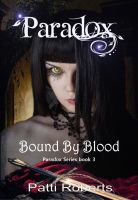 The epic story of the fallen angels and those who oppose them continues to intersect with the present, as the group of seventeen-year-olds continue to remember more about their past lives. The back stories carefully layered in the story, to intersect into the present and the story that takes place will obviously lead us to a story in a future book. We do however, learn more about the Gregori's ancestry and more about Cerberus, Abbadon and even Talia's motivations.
The reader begins to understand and learns more of Grace's life and her past lives, thus we can understand the trials and troubles she has endured, to get to this moment. We see more of the love story that was Juliette and Damon and more of Angela's past. The one thing that shines through is the love that the young characters have had through time and time again, and how they have continued to find one another despite obstacles.
What will these characters do? I guess we will have to read Patti Robert's next book to find out what will happen to these characters and how and when they will face the Gregori's. Until then
I'm
going to re-read the first three books in anticipation of her next book to fill the void.
4
☆☆☆☆
stars out of 5
☆☆☆☆☆