Book Review-Reluctant Medium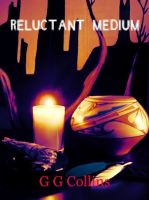 About this book
Title:

Reluctant Medium

Author:

G G Collins

Description:

Reporter Rachel Blackstone has a nose for news, but she never expected to be a newsmaker. While summoning her dead father with a Native American ceremony, an evil spirit slips through. Her efforts to return the spirit uncover a scam involving both the quick and the dead. Rachel discovers the ancient wisdom of a Hopi shaman may help her, but she must discover her own power first or die trying.


Book Review-Reluctant Medium
The supernatural has always interested me so I looked forward to reading this book about a reluctant medium. The main character Rachel Blackstone is grieving, her father died mysteriously three months ago about the same time her marriage started to crumble. Rachel has decided to use Hopi techniques she learned to bring back her father to ask him how he died. But something goes wrong and another entity, an evil entity springs forth bent on harming her brother. Rachel is forced to go back to the place where her father died to warn her brother.
The story is rich in details as we see Rachel work at her job as a reporter and read descriptions of Santa Fe and the area. I really liked this character and her friend Chloe. I truly enjoyed the story told by this author G.G. Collins, the rich details of the Hopi traditions and beliefs. I also enjoyed the lead up to the conclusion of this book. I look forward to reading the next book by this author Lemurian Medium.
5
☆
☆
☆
☆☆
stars out of 5
☆☆☆☆☆