Review- Devil's Nightmare by Rob Pruneda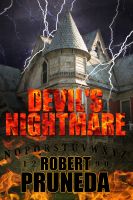 Devil's Nightmare
Detective Aaron Sanders responds to call where they found severed mangled bodies and a sole survivor, a child Cody Sumner who isn't speaking. This is followed up by a call to a nearby cemetery three victims in their teens. The detective is baffled by the crimes and the child is either unwilling, or unable to provide answers to the crimes. When the medical examiner offers the explanations of an animal attack Detective Sanders rejects it and continues searching for answers. An unimaginable evil stalks the child and Detective Sanders, only Detective Sander's alertness and spiritual beliefs can save them both from the Devil's Nightmare.
If you like Stephen King you'll love the Devil's Nightmare.
Gripping suspense and fear come over the reader on this a rollercoaster ride so much so that you want to keep flipping those pages to get to the stunning conclusion.
5
☆☆☆☆☆
stars out of 5
☆☆☆☆☆